Disruption and Opportunity in the US Automotive Industry
(Industry Spotlight) 
The US car industry is in the midst of a transition as more and more automakers invest in electric vehicles. This shift presents a number of challenges for car manufacturers, who must decide how to best allocate their resources in order to stay competitive. Some steps that manufacturers can take to navigate this transition period include forming alliances with other companies and investing in new facilities.
In the US car market, General Motors is the leading player but international competitors such as Toyota and Honda are becoming increasingly strong. Car companies are competing on both price and non-price dimensions. For example, Toyota has profit margins twice as high as Volkswagen. Toyota has been more profit efficient based on the cost efficiency of producing fewer models.
The automotive sector has seen a significant increase in both global and domestic M&A activity in recent years, with deal value reaching a record high in 2021. This is largely due to the continued impact of the Covid-19 pandemic, which has intensified the challenges automakers have faced, including supply chain disruptions, high inflation rates, and soaring commodity prices. As a result, there is expected to be an even greater number of deals in the automotive industry in the years to come.
The auto industry is in the midst of a major transition from combustion to electric vehicles. This is being driven by a combination of factors, including increasingly stringent emission targets, the growing availability of EVs, and the increasing investment by automakers in EV technology. By 2025, EVs are expected to account for 15.1% of total light vehicle production, and this is expected to grow to 22.5% by 2028.
"OUR COMMUNITY IS THE EPICENTER FOR ALL THINGS OEM."
— Rob Sitterley, President and CEO or AR-TX REDI
The journey to integrate more EV production capacity into their operations is not going to be an easy one for automakers, but the Southern states stand to play an important role in meeting these challenges. Rob Sitterley, president and CEO of Texarkana's AR-TX REDI, the region's economic development organization, says that the REDI region offers all of the advantages automakers are looking for in a production site. First, though, it's important for automakers to keep the basic tenets of site selection in mind: primarily how to keep production costs down.
Sitterley stresses that Texarkana's close proximity to the South's automotive supply chain gives the region that advantage. The site also offers competitive utility prices, a crucial factor in the process of selecting a new factory for a power-hungry car manufacturer. With electricity provided by the Southwest Arkansas Electric Cooperative, rates, according to Sitterley, are more competitive than almost anywhere else. In addition, the Kinder Morgan gas line, which stretches from Chicago to Houston, runs right through the site. The vast quantities of water needed for the manufacturing process as well as cooling come via Texarkana Water Utilities, with the site sitting right on the Red River.
The Texarkana region is an ideal location for automotive manufacturers due to its large pool of skilled workers and its commitment to training its workforce in the latest technologies. 
The Texarkana region is an ideal location for automotive manufacturers due to its large pool of skilled workers and its commitment to training its workforce in the latest technologies. The region's colleges and universities offer courses that are highly relevant for automakers, and the region's background in military equipment manufacturing means it can offer automakers access to a large workforce with transferable advanced manufacturing skills.
The US car industry is in the midst of a major shift towards electric vehicles, and those automakers who don't invest in this new technology will be left behind. Standard Lithium is at the forefront of this industry, with a large deposit of lithium in Arkansas. They are in a unique position to partner with other companies and help them transition to electric vehicles.
Toyota and Tesla are located in central and south Texas, Ford in Kentucky and Tennessee, Nissan and Toyota in Mississippi, all within the crucial seven to eight hours drive time of Texarkana, which fronts Interstate 30 and US Highway 67.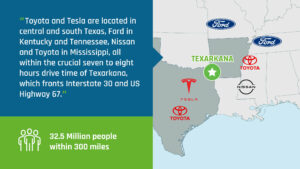 Texarkana's Workforce: Meeting talent needs today and into the future
As industries and markets become more competitive than ever, the Texarkana region is positioned better than ever to support manufacturers' ability to meet consumer demand through a robust workforce skilled in advanced manufacturing. With prevailing wages and costs of living among the lowest in the country, the Texarkana regional workforce will play an important role as manufacturers seek locations that provide better affordability and alignment with their business model.
With the enormous talent pool of the regional laborshed, the Texarkana region will be an ideal partner for advanced manufacturers across the auto industry and other target industries requiring similar skill sets.
Manufacturing (CTE Cluster)
EDUCATIONAL ATTAINMENT VS. COMPANY REQUIREMENTS 
37.1%  of the manufacturing workforce possessing some college or higher
20.7 % of manufacturing jobs in the region require some form of long-term training
The Manufacturing Career Cluster® is focused on planning, managing and performing the processing of materials into intermediate or final products and related professional and technical support activities such as production planning and control, maintenance and manufacturing, and process engineering. 
Turnover Rate
33% LOWER THAN THE NATIONAL AVERAGE
The region's low turnover rates in manufacturing indicate a reduced bottom-line cost to companies with less time and resources allocated to screening new hires and training new employees. 
1. The Texarkana region has the workforce it needs today
Manufacturing is engrained throughout the REDI region's laborshed – employing over 35,000 while experiencing a 0.4% annual growth rate over the past 5 years. As a top industry sector, the region recognizes the importance of manufacturing and continues to invest in education and resources to ensure its success.
2. The Texarkana region has a skilled workforce and the ability to train and upskill
The region's educational attainment outpaces employer training requirements, coupled with a low turnover rate in manufacturing, results in a highly qualified and reliable workforce. The labor force's educational attainment versus education and training requirements of companies within the Texarkana 45-minute laborshed shows that 31.8% of the current jobs (all occupations) in the region require a two-year certificate/degree or higher, compared to 36.7% of the current workforce having a two-year certificate/degree or higher.
3. The Texarkana region ensures a steady talent pipeline
Industry often offers long-term investments and commitments to a community. The REDI region's strong pipeline of workers enables their longevity.
Texarkana's talent pipeline will continue to grow with 15 higher education institutions throughout the laborshed enrolling more than 37,000 and awarding over 10,500 certificates and degrees annually in high-demand management, healthcare and technical fields. Locally, three higher education institutions (University of Arkansas Hope-Texarkana, Texarkana College and Texas A&M Texarkana) in the MSA are issuing nearly 2,000 awards annually.
The Texarkana MSA is home to nearly 6,000 veterans while the laborshed has nearly 29,000 veterans (ages 18–64). In addition, there are nearly 550 military exits annually. 
Texarkana Megasites
Not only does the Texarkana region have an enviable talent pipeline, but it also has two megasites (one on the AR side and one on the TX side) able to support operations of nearly any size. These sites, controlled by AR-TX REDI, have direct interstate highway access and are certified as shovel-ready.
These megasites (less than 30 mi. From each other) are within 300 miles of eight major cities with a population of 32.5 million people and more than 62 million within 500 miles.
REDI Arkansas Manufacturing Center
This manufacturing complex offers incredible opportunities for original equipment manufacturers (OEMs) who need to reach consumers or their customers on time and on schedule. Fronting Interstate 30 and U.S. Highway 67, the 1,350-acre site provides close connectivity to I-49 and future I-69.
REDI East Texas Logistics Center
With frontage on both sides of Interstate 30, the nearly 850-acre site provides close connectivity to I-49 and future I-69 (currently I-369) as well as access to four U.S. highways within the region.
Living in Texarkana
The living is large in the twin cities located in Arkansas and Texas. 
The Texarkana region offers an unbeatable blend of affordability, opportunity, and quality of life. With its charming small-town feel and abundance of recreational and cultural amenities, this two-state region is perfect for those who want to live and thrive. Companies appreciate Texarkana's pro-business climate, while families will love the region's excellent schools and safe neighborhoods.
Cost of Living:  15% Below the national average
Median Household Income: $47,682
Median Home Price : $141,950
Average Commute Time: 18 minutes
4 Higher Education Institutions:
Texarkana College

Texas A&M University Texarkana

University of Arkansas Texarkana

University of Arkansas Medical Sciences
54 Public Schools
4 Private Schools
210 Restaurants
30 Hotels
ARTS & CULTURE HOTSPOTS :
Perot Theatre
Regional Arts Center
Texarkana Symphony Orchestra
Texarkana Repertory Company
Crossties Event Venue

 
About AR-TX REDI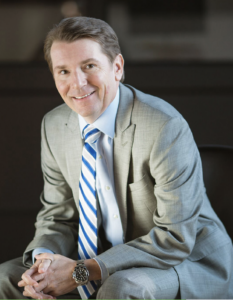 The Texarkana region is committed to helping businesses grow and thrive. The Arkansas-Texas Regional Economic Development Inc. (REDI), is a non-profit organization that is the single point of contact for companies looking to locate and expand in the Texarkana region. With a unified vision for the future of Northeast Texas and Southwest Arkansas, REDI is dedicated to connecting businesses with the resources they need to succeed.
Rob Sitterley serves as the President & CEO of AR-TX REDI
For more information on the Texarkana Region, the REDI Megasites, Automotive Industry White Paper, and more visit: www.ARTXREDI.com